So guess what! I will be starting my very first salaried job on Tuesday!! I'm an adult!! Check out some of my favorite professional looks below.
Who (besides my mom) says you can't wear white after Labor Day?? This
winter white suit
from Ann Taylor is styled perfectly with a black shirt, a little bling and the cutest leopard accessories. Even with my new pay raise though, I don't think I can afford this entire package. Buy the suit and head over to Target for your accessories.
Women's Mossimo® Black Versie Pumps - Leopard


J. Crew makes wearing a men's tie seem so effortless and classy. This gray suit works perfectly- it's simplicity lets the tie be the focal point. Plus it's on sale!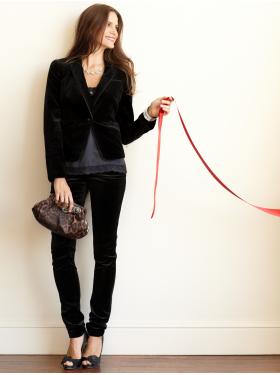 A velvet suit?! Amazing! The luxurious feel of this suit from Banana Republic may make it hard to focus on work!
I love the mix of prints in this outfit from Loft, but I think I would pair it with jeans for a casual Friday look.
That's it for now! I'll be posting my 30 pieces for the 30 for 30 challenge this weekend, as well as a recap of my first 5K ever!! (assuming I live through it, the temperature is supposed to be 29 degrees on Saturday!).